Upcoming Issues | Pre-Order | Back Issue List | The Annuals | Campaign Studies | Special Offers | Way of War Packs | Black Swans | Accessories | Spare Parts | Endangered Species | Sold Out | Kickstarters
ATO Magazine - CY-BEREZINA MONDAY Offer!
Greetings, 
This is just a quick note this season to share the latest ATO Magazine news and inform you of a special offer of interest that kicked off today – more on that later.
What Just Happened…
Issue #37 with For Bloody Honor inside was mailed to subscribers. We heard from the mailing service that between them and the postal system, around 2 weeks were lost in moving the mail out due to our recent super storm here on the East Coast but we know that the issue has reached as far west as California. If you don't get yours by Dec. 1, 2012 please send us an email at admin@atomagazine.com and we'll send you a replacement.
What's Coming…
  Next up is issue #38 with Guns of the Askari inside which recreates the imperial struggle for East Africa during WWI.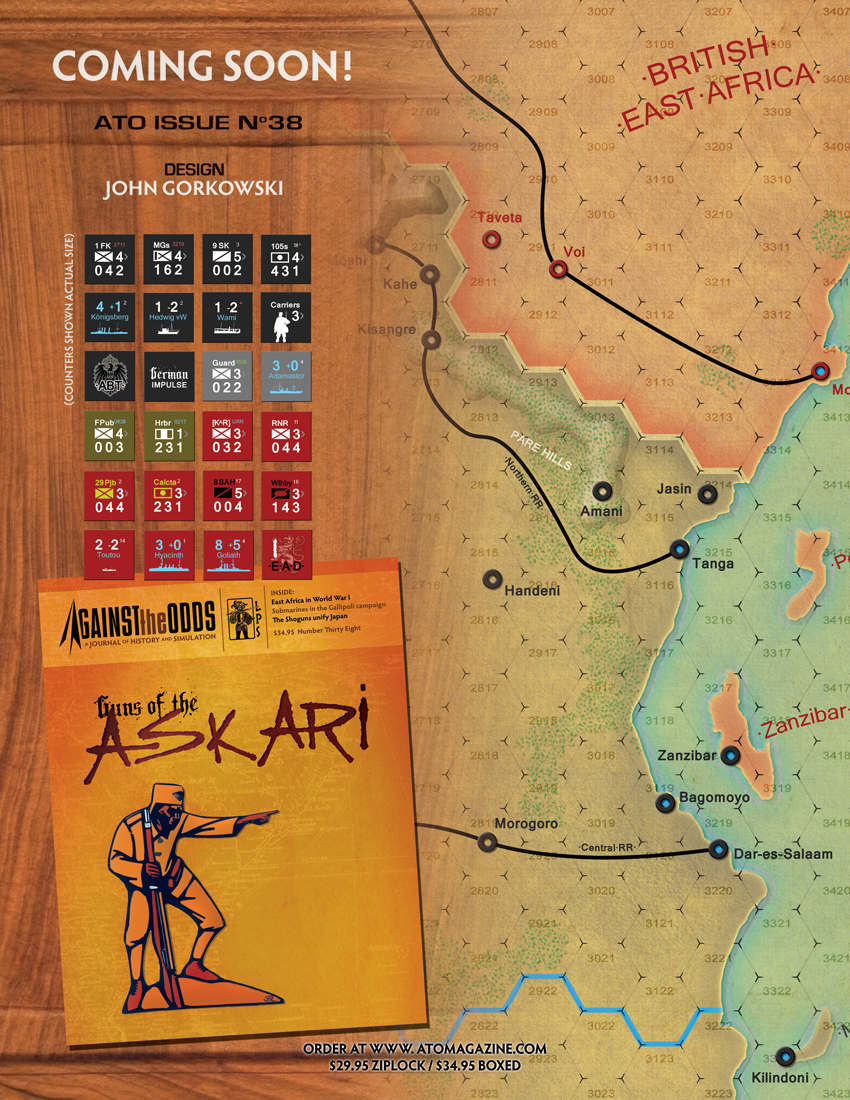 In March, 1919, a man on a black horse led 120 officers through Brandenburg Gate, wearing tattered tropical uniforms, on the only "victory" parade German troops would have after WWI.

Heavily outnumbered from the opening days of the War, this Swahili-speaking German commander only surrendered after being informed of the Armistice on the Western Front.
 
He was Paul Emil von Lettow-Vorbeck, who kept tens of thousands of Commonwealth troops chasing him around East Africa instead of helping out on the Western Front....

This often overlooked campaign featured classic land battles, naval engagements between lake flotillas, cruiser duels at sea and finally hit and run guerrilla engagements.
 
It opened with conventional force-on-force battles dominated by infantry, machine guns, and trenches. But the low troop densities and wide open spaces enabled a war of movement spearheaded by South African cavalry that broke the stalemate in mid 1916.
This left the German commander, Von Lettow-Vorbeck, a choice between surrender or guerrilla war.  He chose the latter and dragged his weary pursuers through a series of running battles in Portuguese East Africa.
Few "Against the Odds" situations lasted as long, or ended as successfully, as the East African Campaign. And now, you can see the whole operation from the inside out. Click here to learn more.
Of course, we've cooked up some wonderful graphics for this game as well as you can see.
Oh, and about that special offer I mentioned earlier…here we go!
Special CY-BEREZINA MONDAY Sale—200th Anniversary!
November 26-29, 1812, the battered remnants of La Grande Armée struggling to exit Russia across the last major obstacle - the Berezina River.
ATO Magazine devoted an issue, and a solitaire game, to this important but little-studied event. (Aside from the last battle scene in "War and Peace" the movie…)
Now, with the 200th Anniversary of crossing the BERezina coinciding with CyBER Monday, ATO has created a special offer to celebrate this CY-BEREZINA MONDAY! 
From November 23 to 29, you can get a complete copy of ATO issue #4, including the game, "Napoleon at the Berezina," free with any of the special purchases below.
* Start a new Subscription.
* Renew a current or previously expired Subscription.
* Select our "Pick 3 Special Offer," to get any 3 regular ziplock back issues for one low price.
* Or choose our "Big Pick 2 Special Offer" and get any two of our larger back issue Annuals or Campaign Studies.  
Any of these four options will also get you a whole extra magazine and game.
Just enter the promotion code NAPOLEON in the promo code field (be sure to hit the "apply" button) with your order to claim your free issue on this great event. (And, you can still pick a free Pocket Battle Game on your way out of checkout too! Maybe more Napoleon with "La Garde Recule!")



Thanks for reading,

Steve Rawling, Publisher, Against the Odds