Upcoming Issues | Pre-Order | Back Issue List | The Annuals | Campaign Studies | Special Offers | Way of War Packs | Black Swans | Accessories | Spare Parts | Endangered Species | Sold Out | Kickstarters
ATO Magazine - Autumn 2012 Newsgram
Greetings,
This is just a quick note this season to share the latest ATO Magazine news and inform you of a special offer of interest that kicks off tomorrow – more on that later.
What's Coming…

We'll be sending out our next issue, #37, later this month, featuring the game, For Bloody Honor, inside. This game looks at the entire Russian Civil War from late 1918 through the early 1920s.
Explore the tangled facets of the Russian Civil War, with the historical situation exemplified by a game that handles two to seven players…with up to six of them commanding the "White" Russian factions! (In multi-player games, if the Reds are defeated, the game isn't over yet!) For Bloody Honor: Civil War Russkaya captures the interactions of political influence, railways, foreign intervention, and the discord among the White factions that gave the Bolsheviks their best chance to win in a battle against — as it seemed to them — their internal enemies and the whole Western Alliance. (Yes, there were British, French, Canadian, Australian, Indian, Japanese, and even U.S. troops fighting in Russia as late as 1920…and even later for the Japanese).
You can read a bit more about why the battles in this vast theater were so important, and what design innovations make this game tick, here on our website.
Next up inside issue #38 is Guns of the Askari which recreates the imperial struggle for East Africa during WWI. This often overlooked campaign featured classic land battles, naval engagements between lake flotillas, cruiser duels at sea and finally hit and run guerrilla engagements. It opened with conventional force-on-force battles dominated by infantry, machine guns, and trenches. But the low troop densities and wide open spaces enabled a war of movement spearheaded by South African cavalry that broke the stalemate in mid 1916. This left the German commander, Von Lettow-Vorbeck, a choice between surrender or guerrilla war. He chose the latter and dragged his weary pursuers through a series of running battles in Portuguese East Africa.
Few "Against the Odds" situations lasted as long, or ended as successfully, as the East African Campaign. And now, you can see the whole operation from the inside out. Click here to learn more.
Of course, we've cooked up some wonderful graphics for this game as well as you can see below here: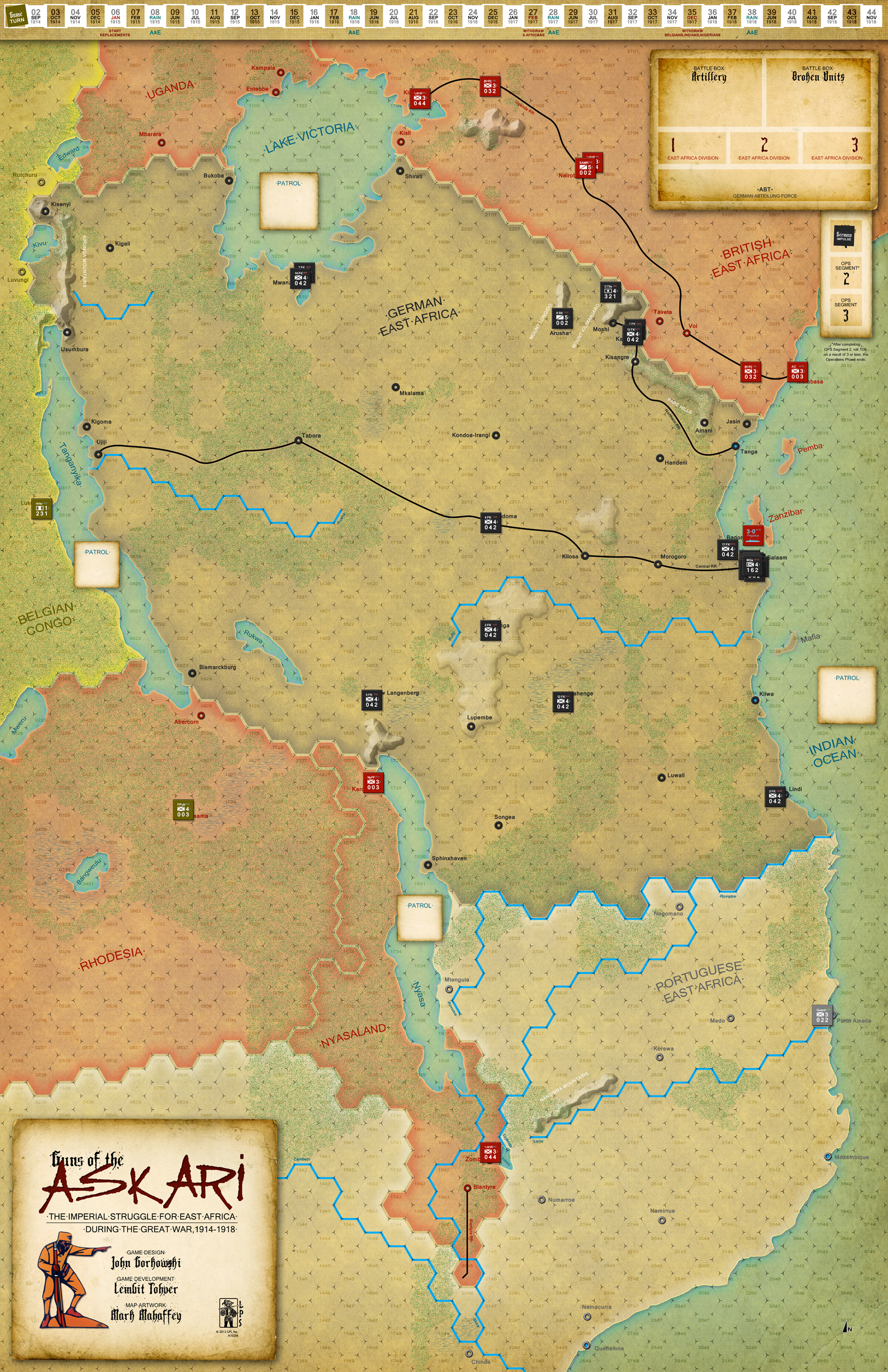 A Bit of Turning Point Simulations News

This year marked the release of our first 4 games from TPS, small playable designs with hard mounted maps and easily accessible - just sit down and play! You can check them out at the TPS website here. We've settled on the next four titles to be released and here's a quick peek at the cover images. Enjoy!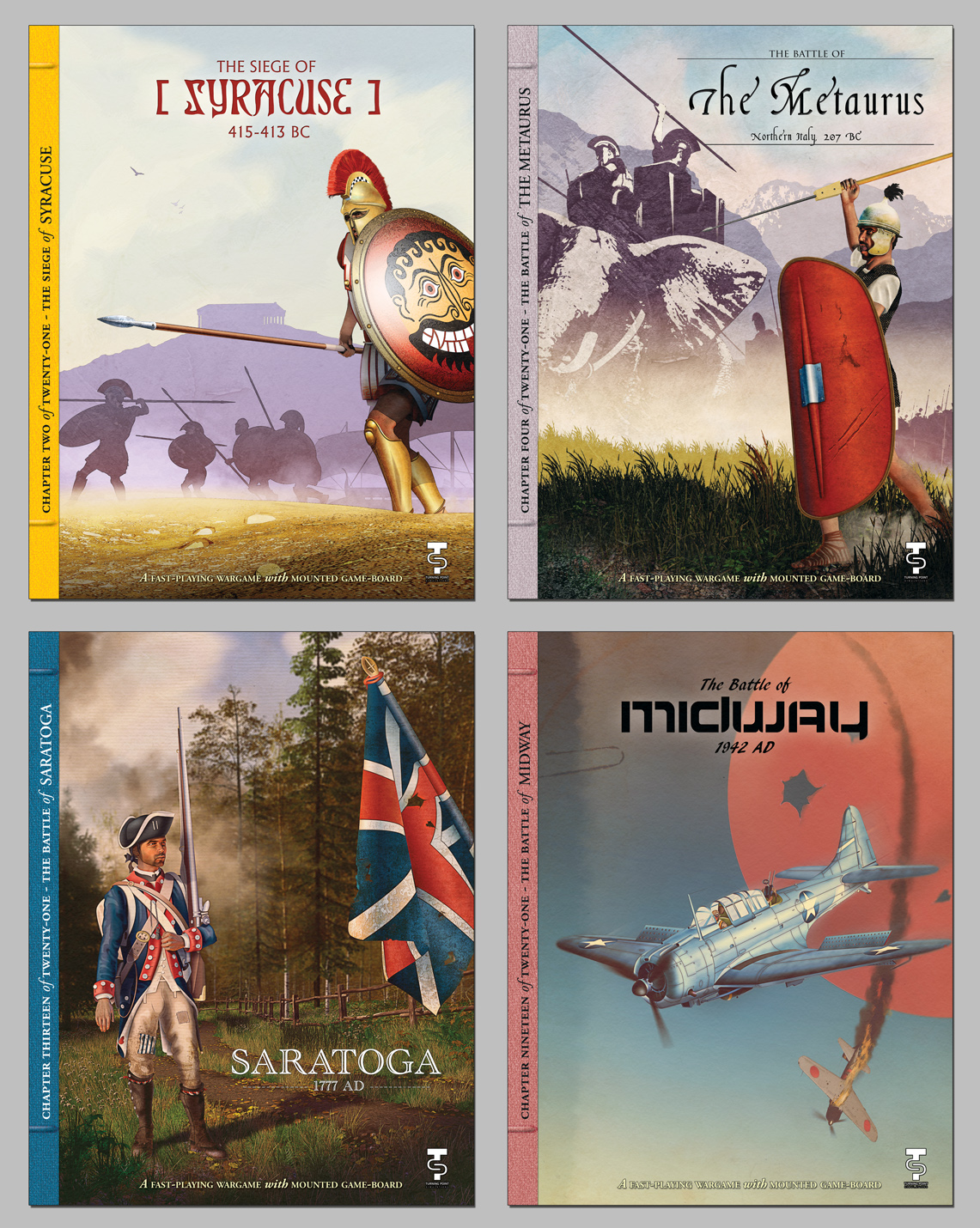 And About That Special Offer I Mentioned….
This upcoming Oct 14th marks the anniversary of the disastrous Schweinfurt Raid in 1943.

It's also known as the "Second Raid on Schweinfurt." It's also known as "Black Thursday."

This was an ambitious raid that sent nearly 300 B-17s deep into Nazi Germany, aiming to cripple the ball bearing industry. They succeeded somewhat, but at casualties that topped 25%.

Against the Odds Magazine commemorates this important event by offering a copy of our challenging WW2 solitaire air combat game "Schwarm!" free with any order placed on our website October 11th through midnight Oct 17th. Simply type in "Horrido" in promotional code field (be sure to hit the "apply" button) on our website order form, and along with your order you'll get this Jeremy White & Mark Aasted game included, absolutely free!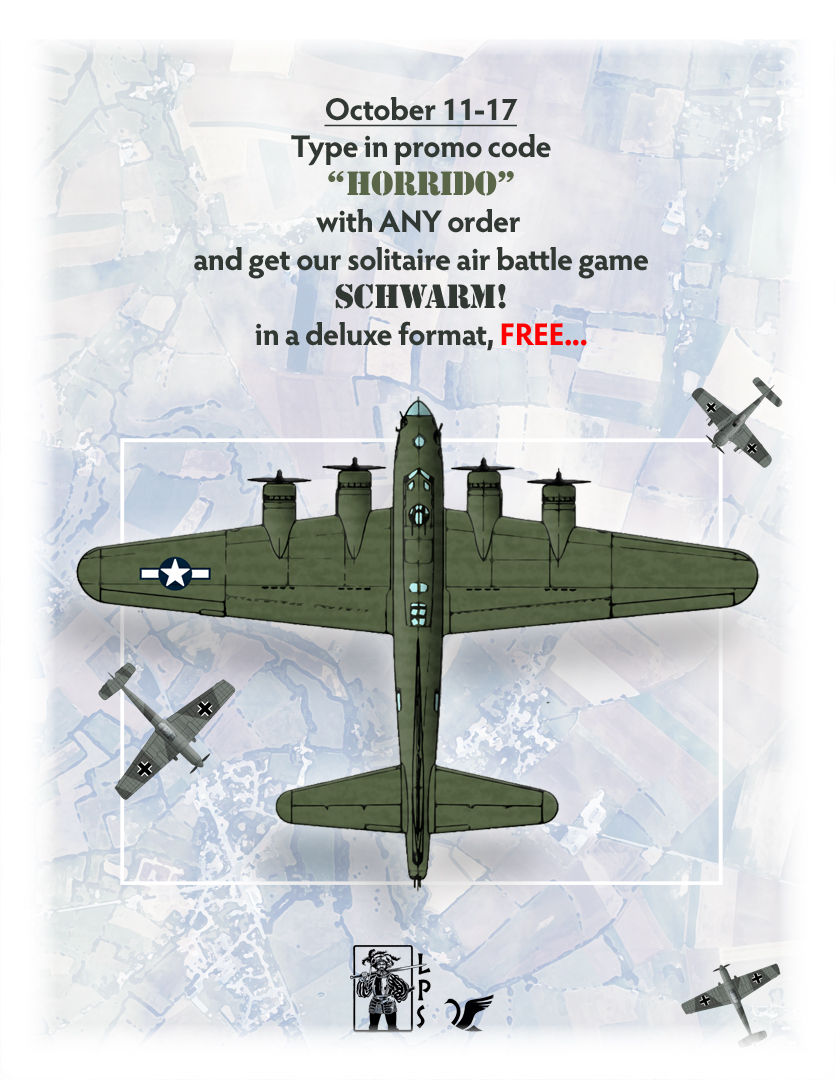 (Okay, what's "Horrido"?)

It's an old hunter's call, used by the German air force as a radio call to claim a victory achieved...a call heard over 60 times on this fateful day.
Thanks for reading!
Steve Rawling, Publisher - Against the Odds Magazine