Upcoming Issues | Pre-Order | Back Issue List | The Annuals | Campaign Studies | Special Offers | Way of War Packs | Black Swans | Accessories | Spare Parts | Endangered Species | Sold Out | Kickstarters
Winter Sale 2021 and News from ATO Magazine



Greetings,

 


We're one month into a new year so it's time for an update on what's coming next from ATO, plus news of a special offer all this month (I'll get to that further below).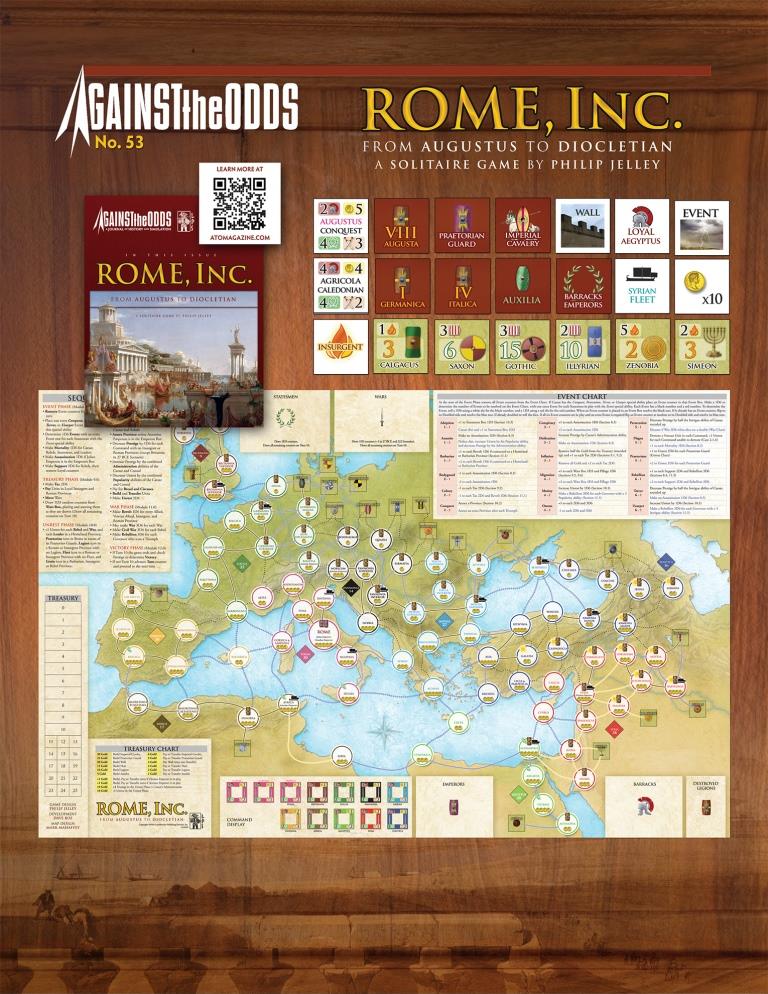 Up next from us and mailing at the end of this month will be ATO #53 with ROME, INC. inside, by designer Philip Jelley. It's a solitaire game on the Roman Empire. After hostile takeovers of such competitors, like Carthage, Greece and Gaul, Rome has been incorporated into an empire, ready to monopolize the ancient world.
ROME, INC. begins with the "startup" of the Roman Empire under Augustus in 27 BCE to Diocletian in 286 CE. You'll control the workings of the empire throughout, although you can pick four distinct "starting points" (27 BCE, 70 CE, 138 CE and 222 CE) and run scenarios of any length you like, depending on your corporate acumen and endurance. Each turn represented 5-10 years, with 10 turns in each of the four scenarios.
Historical statesmen are rated for their military and administrative talents, popularity, and skill at intrigue, and each has a special ability. Every turn sees crises and challenges that the player must deal with - much like a modern CEO. Increase "stock" by expanding the empire and triumphing over enemies, like the "barbarians at the gate" or internal agitators. But can your management maintain a good Return on Investment?
The map consists of provinces grouped into military commands such as Britannia and Syria, each commanded by a governor. Provinces may be controlled by barbarians, allies or insurgents, which can be conquered and developed into peaceful tax-payers. Beyond these are the homelands from where barbarian wars and enemy leaders pillage their way from province to province until defeated.
You decide where to allocate resources (capital spending), raise new forces (hiring), undertake prestige projects (public relations), pleasing the mob (shareholders), or even setting aside a reserve for a rainy decade or two. You'll need to blend military expansion with careful administration, as well as intrigue, making the most of what you have each turn, just like any modern-day business.
ROME, INC. will give you a new perception of how war is a cost, business is a benefit, and empire is somewhere in between. It's up to you to find a balance.  You can still subscribe or renew today and get this issue!
Also back in print in an upgraded and expanded edition and available once more for sale is ATO #29 with Buffalo Wings inside. We had run this as our first Kickstarter project last year and with the mailing complete, we can now offer the issue once more on our website.
Buffalo Wings covers the air war over Finland, a true David and Goliath struggle where opponents battled each other - and the elements - for control of skies....
So find out why the Finns called the stubby Brewster Buffalo fighter their "Sky Pearl," ("Taivaan helmi") with the latest installment of J.D. Webster's "Fighting Wings" system of air combat. Buffalo Wings centers on the Finnish-Soviet air actions of 1939-41 (both "The Winter War" and "The Continuation War"), with a faster playing set of rules system that makes for easy entry into "Fighting Wings" game system. While this is a complete, stand-alone game, it's also a useful expansion to the FW line and fully compatible with the system.
Planes face hex sides or spines, giving 12 possible orientations to go along with 8 bands of altitude in an abstract system that keeps players focused on combat air decision making and not just trying to "fly" the plane. Buffalo Wings is fast moving, with both solitaire, 2 player, and multi-player scenarios, ranging from 1 on 1 dogfights to "1 versus many" episodes against bombers (which have "auto fly" rules or can be handled by a live player) and escorts.
So, if you missed Buffalo Wings the first time out, here's another shot at it. And be sure to check out the Expansion Kit here (also pictured above) for Buffalo Wings as well.


And about that special offer I mentioned.




Last year we were just too "snowed under" to consider having our normal December sale. Well, it's still winter, but we have enough of the driveway cleared to have some fun with a new offer. And, we are mindful that 2021 means 80 years since a (up to then) purely European local war became a fully 'global' struggle with both the Soviet Union and the US becoming involved.
So we've created an "80th Anniversary: Winter Sale".
Over the years, we've produced a number of games that historically took place during the winter (some of them spanned several winters). We've made a list and here is our offer.
So, for this month only, US customers can spend $80 or more on our page, and pick ONE of the titles below for FREE.
And, we'll throw in our 4 "Pocket Battle" Battle of the Bulge games (the "Peiper Bad Pun" series!), plus the die cut counters to go along with them (and you can download the rules to combine them all off this page to the lower right)!
There is no special code or any other restrictions. Simply purchase items that total at least $80 and write in which one the games you want for free in the "Comments" section of the order form at checkout. And we mean ANYTHING or any combination that adds up to $80 or more. Subscriptions, Black Swans, Annuals, Storage Boxes, Upgrade Cards*…any purchases and any combination that takes your total to $80 or over, and we'll add a FREE, ziplock version to your box. (For new or renewing subscriptions, we will send your free game with your first issue.) Previous sales are excluded from this offer and of course so are any sales tax charges imposed by your state.
For International Customers, please understand that the difference in shipping costs would kill us if we made the same "spend $80" offer for you, as a large part of that would be our postage costs. However, we will offer you your choice of FREE game, plus the Peiper/Bulge games, when you spend $120.00 on our site.
PICK ONE OF THESE!
*We know many of you have not noticed our Upgrade cards (we have FOUR different sets!) or storage boxes. You can find them here.


OK, that's it for now. Thanks for reading and Happy Gaming!

Best,

Steve Rawling, Publisher, ATO Magazine