Upcoming Issues | Pre-Order | Back Issue List | The Annuals | Campaign Studies | Special Offers | Way of War Packs | Black Swans | Accessories | Spare Parts | Endangered Species | Sold Out | Kickstarters
Autumn 2020 News from ATO Magazine
Greetings from ATO Magazine,
Just a quick newsgram this time to let you know what's coming next and also news on a special commemorative offer going on all this month. More about that below.
Next up from ATO will be the Annual Edition with Sea Monsters! in it. To face monstrous ships at sea, possibly harboring radical technologies, can make any sailors blood run cold. The designers featured in this issue have drawn on their own nautical fears and fascinations to explore what really (or could have) happened....

Sea Monsters! offers FOUR complete simulations that will provide hours of challenging play and comparison. And as always, the Annual features an "extra-size" magazine, with an in-depth look at the history behind the games, plus other articles. Look at all you get!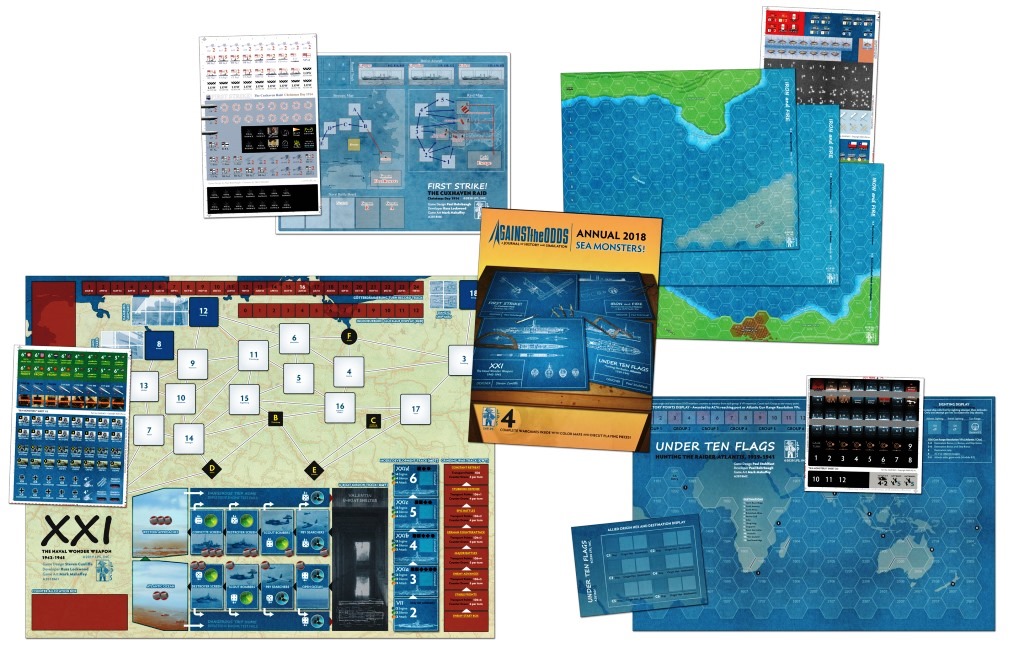 Iron and Fire is a moderate level complexity game covering the battles fought by the Peruvian Ironclad Huáscar during the 1879 War of the Pacific against Chile. It basically outclassed everything it met and gobbled them up - but there was only one (think of the SF classic, Ogre, but on the waters this time).

First Strike! looks at, well, the first strike by carrier aircraft in military history, the British air raid on Christmas Day, 1914, against Cuxhaven. The goal was to not just strike at the Zeppelin sheds, but also hopefully lure out, engage and destroy any elements of the Imperial German Navy that were at sea at the time or came out to strike back at the raiders.

Under Ten Flags starts early in 1939 when the German merchant raider Atlantis made its way into the South Atlantic to sink and capture Allied cargo vessels. Its crew used their skill in disguising the appearance of the vessel to aid its encounters or avoid enemy warships. The journey of the raider Atlantis lasted for almost two years, traveling over 100,000 miles in 602 days.

XXI is a solitaire game set in 1943 that challenges the player (acting as both Speer and Dönitz) to organize and complete construction of a fleet (or at least "enough") of the new German Type XXI submarine. However this new sub is far larger, more complex, expensive, and resource and manpower intensive than previous submarines. Just a few of these new Type XXIs will do nothing. Only a radical transformation in shipbuilding techniques to mass produce the design - backed by the ruthless will to succeed - will enable this "wonder weapon" to arrive in time....

Make yourself the proud owner of this challenging look at what men would face to ensure control of the seas. Sea Monsters! will be released in mid-October so you can still get your copy with the first mailing if you act quickly.



And in other news, this month October, marks 20 years on ConSimWorld under our own folder. You can have a bit of fun going back to the very first messages posted here at very beginning and re-reading initial reactions from both our well-wishers and skeptics. 
But of course, you can also look forward to some savings all this month. While we normally promote big ticket savings for large purchases, this time we're reaching out to our readers who may just want one or two things from us. Click on the banner below to visit out site. Use the code and grab that missing item from our backstock to fill out your collection.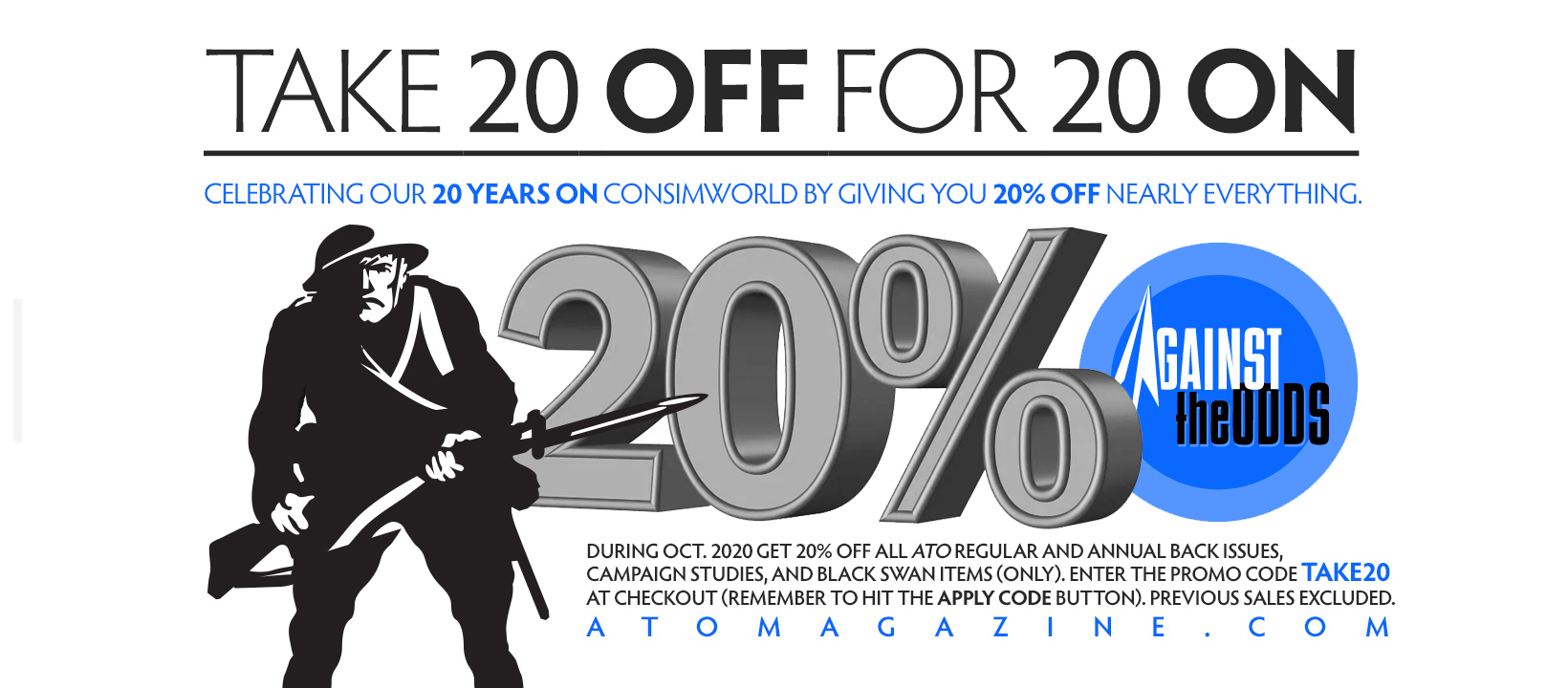 But the site will still work for readers that need more. Want to select some sort of PICK 4 deal? Use the normal PICK 3 Special Offer and then add a fourth issue with the TAKE20 code for a handsome price break. 

Thanks for being with us all these years – we can't promise another full 20 but we can promise you can get 20% off select purchases all this month.

OK, that's it for now. Thanks for reading!
ATO Magazine