Upcoming Issues | Pre-Order | Back Issue List | The Annuals | Campaign Studies | Special Offers | Way of War Packs | Black Swans | Accessories | Spare Parts | Endangered Species | Sold Out | Kickstarters
Against the Odds Magazine Remembers D-Day!



During WWI,

the American Army developed the practice of designating the "undetermined" beginning of an important operation as just "Day," or "D" for short, and would time- link the actions scheduled before and after that start date with "plus" or "minus" times. So "D-3" meant "three days before the operation begins," while "D+5" meant "five days after the operation starts." The actual (undefined) start day was called, somewhat redundantly, "D-Day."
That all changed after June 6, 1944, and "D-Day" has meant only one thing from that point forward.
This month marks the 75th Anniversary of that D-Day, and ATO has a special way to remember it.

You've enjoyed our "Pocket Battle Games" and particularly enjoyed the two "linked" quad sets (Peiper/Bulge and the Leipzig battles) we have where four separate cards could be played separately or combined into one "large pocket battle."
But we all know D-Day included FIVE beaches, so we must follow suit.

Our "Five for Fighting" deal includes one Pocket Battle Game for each of the Allied beaches: Sword, Juno, Gold, Omaha, and Utah. Each works fine as a stand-alone game, but we know you want to link them up (just like the Allies did).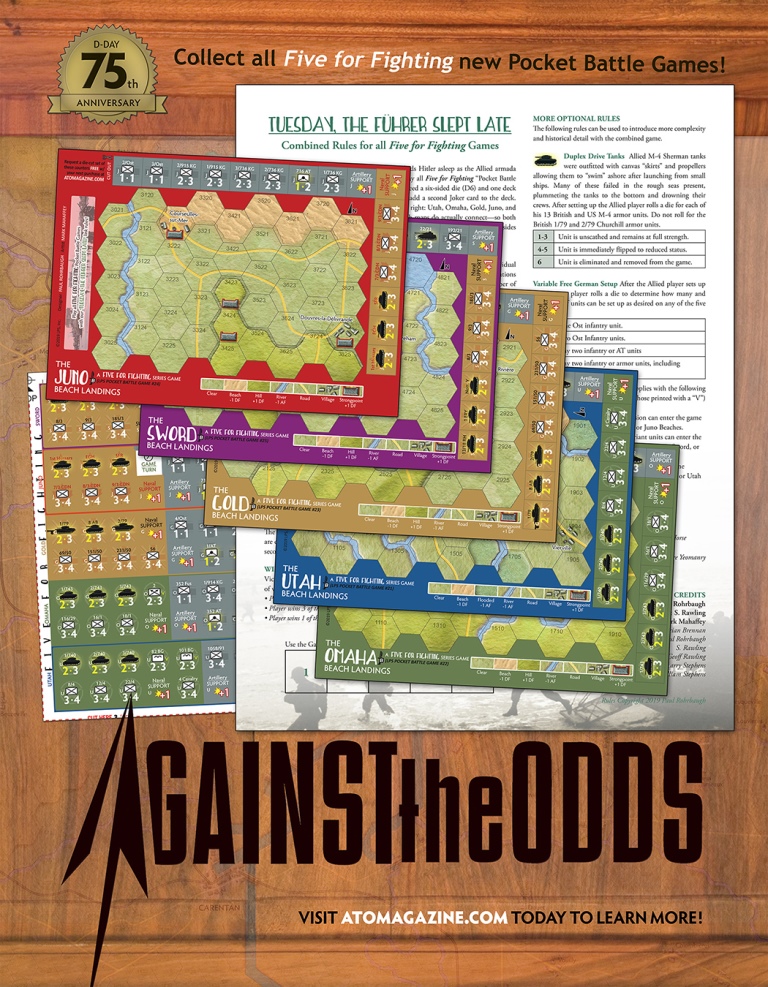 To commemorate the 75th, we present our "Five for Fighting" Special Offer.
Buy anything during June (prior sales excluded) and you will get these 5 new PBG cards included, absolutely free. Buy at least $75.00 in June (for the 75th anniversary of D-Day) and get the 5 PBGs, the 100 mounted die-cut counters, and the link rules that tie all five together. And yes, folks using the "PICK 3" ziplock option can choose a TPS game or two (at least one must be an ATO game.)


There are no promo codes. You don't have to enter anything to get the deal, but you cannot choose any of these "Five for Fighting" cards separately right now. (No need to; ANY purchase gets you all five of them anyway.) But yes, you can still ask for ANOTHER Pocket Battle Game with counters during checkout.
The special lasts from June 1 through June 30.
Remembering "D-Day." That D-Day.






Thanks for reading,

ATO Magazine