Upcoming Issues | Pre-Order | Back Issue List | The Annuals | Campaign Studies | Special Offers | Way of War Packs | Black Swans | Accessories | Spare Parts | Endangered Species | Sold Out | Kickstarters
It's OC-TOHVER at Against the Odds Magazine
Probably our last "Oc-Tohver" special event ever! We have important news and a fantastic offer for you to mark this month that you read more about further below.
But for now, journey with us as our next issue takes us to Middle East but far back in time. Inside ATO #48 you'll find Apocalypse in the East, by Jason Juneau. From the highlands of Armenia to the shores of Crete, the elite Syrian Muslim army and navy seek to overwhelm the last stronghold of the Byzantine Empire, Constantinople. Unfortunately for them, the new emperor, a callous youth named Constans, is equally determined to stop them. Coming to the throne in the wake of murder and revolt, the young sovereign commands only the battered remnants of the Byzantine army, but it is now fighting on its home ground.
Apocalypse in the East - The Muslim Assault on Byzantium (A.D. 646 – 656) features yearly turns, regimental sized units, special rules on the Empress Fausta, and random events including the Monothelete Controversy, earthquakes, nepotism by Caliph Uthmãn, purges in the Byzantine high command and the introduction of Greek Fire. Can you take the helm of the Syrian army and navy and storm the greatest citadel on earth, or will you instead prevent it and maintain Byzantium's role as Christendom's eastern march?
See all you get in this issue below!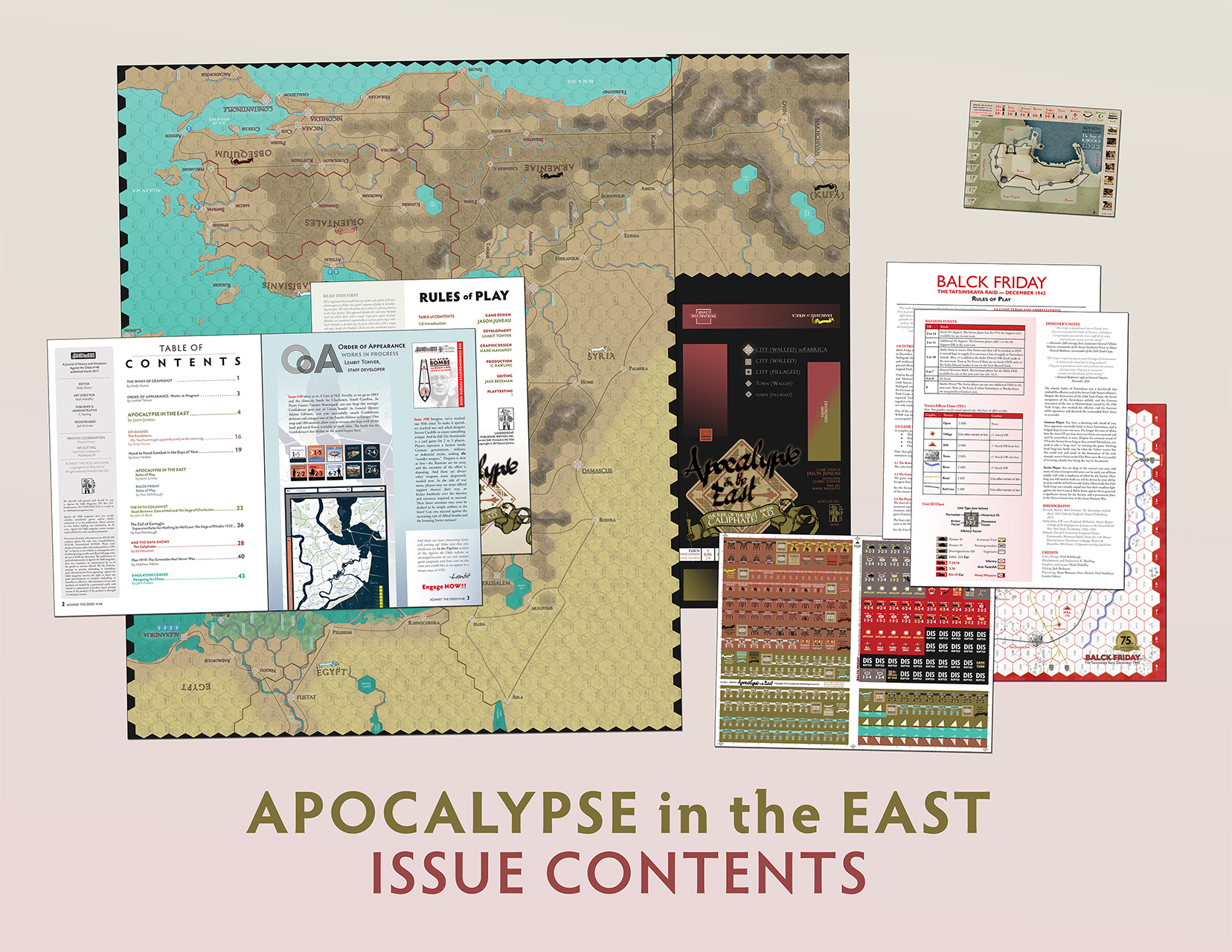 And for that special news and offer we mentioned? , ATO's famed developer, Lembit Tohver, is retiring this year.
Throughout his many years of fantastic service, he always gave "something extra" to us. Extra insight on players aid charts. Extra playtesting to achieve balance and re-playability. Extra gamer understanding.
To celebrate his long years of service, we too are giving "Something Extra" throughout October, with extra math for you. Simply choose our PICK 3 ZIPLOCKS special offer and it becomes a PICK 4! (choose four standard ziplocks). Or choose our PICK 2 BIG ZIPLOCKS and it becomes a PICK 3! (choose three Annual or Campaign Study ziplocks). No need to enter any promotion codes (Lembit always fought to keep the rules clear and simple). Just purchase and enter your picks in the comments field of the web order form.
There is no limit to this offer, so if you want two of the Pick 3 bundles, you can take eight issues with games, or select a Pick 3 and a Pick 2 Bigs. The choices are yours!
Here's your chance to fill in your collection or pick up the issues/games you've been considering.
This offer good October 1 through 31. Click on the banner below to learn more.





OK, that's it for now. Thanks for reading!

ATO Magazine