Upcoming Issues | Pre-Order | Back Issue List | The Annuals | Campaign Studies | Special Offers | Way of War Packs | Black Swans | Accessories | Spare Parts | Endangered Species | Sold Out | Kickstarters
Spring 2015 Newsgram from Against the Odds Magazine
Spring greetings to all!
This is just a quick update on what's going on here this season at Against the Odds magazine and to alert you to a special offer we're running throughout the month of April. More on that later.
Just mailed out was ATO issue #43 with Islands of the Damned inside. We're sure most people have theirs by now, but if you didn't get your subscriber copy yet, wait until April 18th and shoot us an e-mail and we'll investigate.
If you weren't a subscriber for this issue, and you've been reading the good press about the two separate solitaire games inside, this issue is now also available to be ordered separately. Here's a look what you get: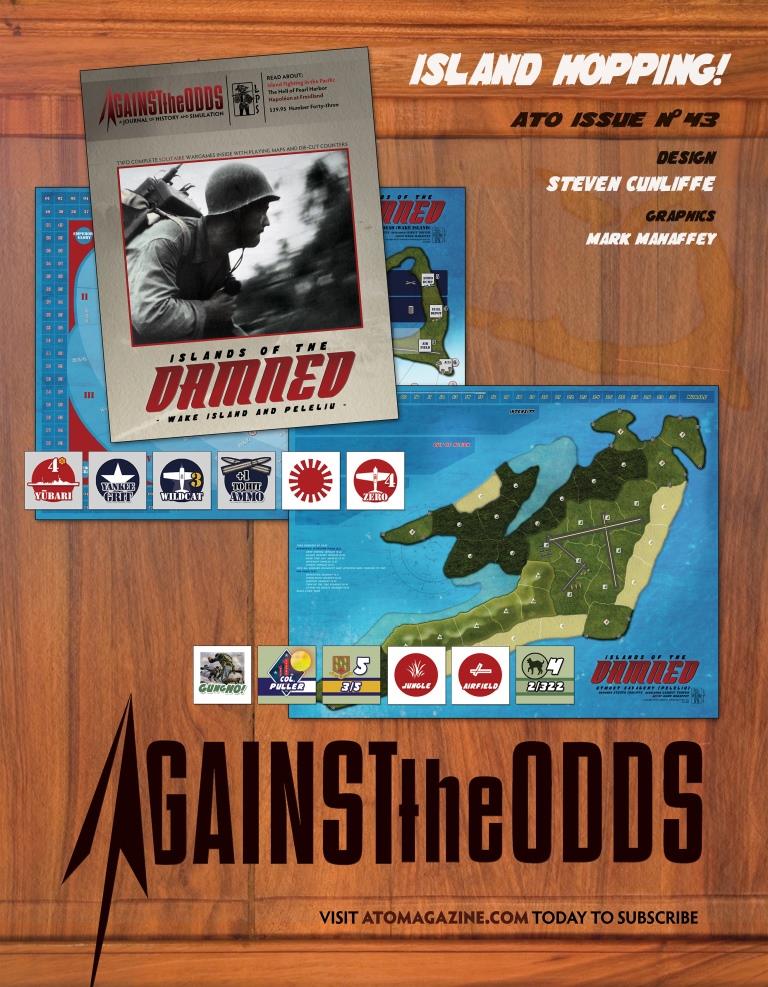 The first game, Given Up for Dead covers Wake Island and the second, Utmost Savagery takes on the less-known invasion of Peleliu. Designer Steven Cunliffe tackles both battles with innovative systems that challenges players to mix boldness with good tactics. They must gain objectives but minimize casualties...as the historical commanders would have liked to do.
The Islands of the Damned package comes with 176 large, full-color 5/8" die cut counters and two separate 17"x 22" full color mapsheets that contain displays and tables needed for each game.
You will be commanding the American forces in each game, challenged with doing far better than the historical outcomes. Can you save most of your troops from the Islands of the Damned?
Next up from ATO will be our Annual edition with Set Europe Ablaze inside. SEA captures the spirit and complex choices involved in Occupied Western Europe. Award-winning designer John Prados, who last gave us Beyond Waterloo, again focuses on action in France, Belgium, and the Netherlands. Prados brings us a card-driven game pitting the Occupying Axis forces against the combination of Allied intelligence efforts and brave local citizens, fighting the shadow war that made "the Maquis" a name to remember proudly.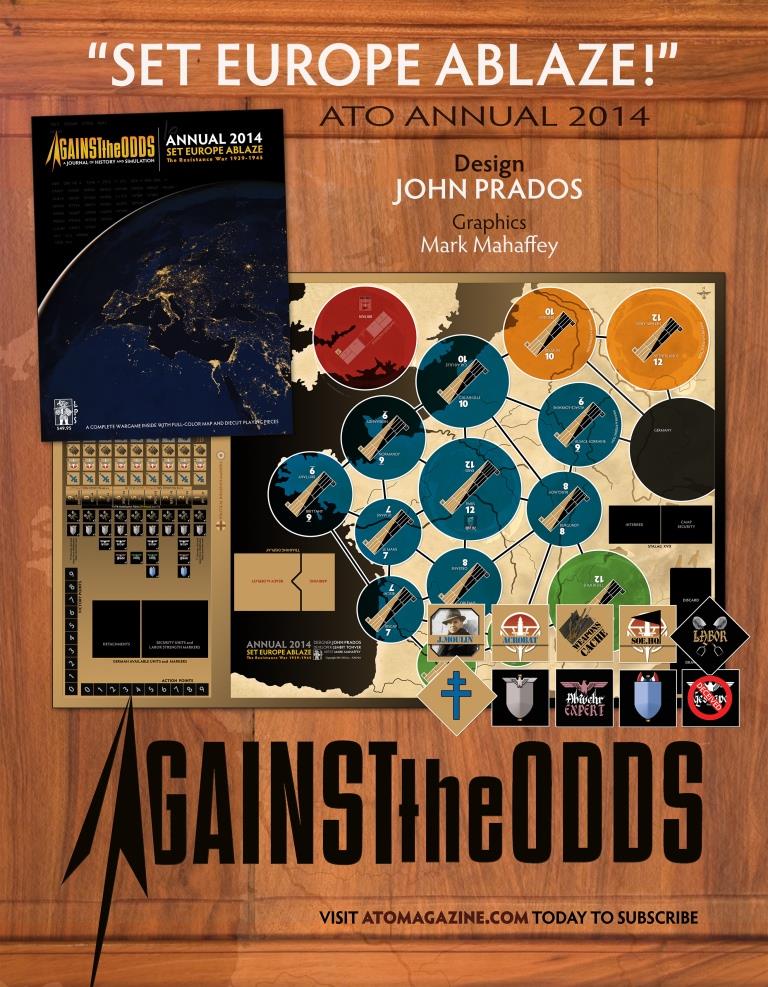 Unlike many board strategy games, the focus is not on movement and combat by military units but on political-economic strategy. The Axis player wants to extract as much raw materials and finished goods as possible, to aid the war effort, and the Allied player seeks to avert this. Allied tactics include sabotage, interdiction, and intelligence gathering. Don't miss it!



Oh, and about that special offer. Say the name "Narvik" and it conjures a blur of mountains, snow, and a vague sense that some remarkable action took place there in Norway during the early days of WWII.
All of which would be accurate. To remember the 75th Anniversary of the Battles of Narvik in 1940, ATO Magazine will include a FREE copy of our Black Swan game Assault on Narvik with ANY order made in the month of April. Click on the banner below for more information.






Thanks for reading!


Against the Odds Magazine