Upcoming Issues | Pre-Order | Back Issue List | The Annuals | Campaign Studies | Special Offers | Way of War Packs | Black Swans | Accessories | Spare Parts | Endangered Species | Sold Out | Kickstarters
ATO Magazine - Autumn 2013 Newsgram
Greetings,
This is just a quick note this season to share the latest ATO Magazine news and inform you of an "Oktoberfest" special offer of possible interest that kicked off today – more on that later.
First Off, a Nod to a Winner:
It's always fun to see a superior product get noticed. Our 2011 Annual with Beyond Waterloo inside took the Charles S. Roberts Award for Best Magazine game this year!
While most "Waterloo games" either lock players into the circumstances of that famous battle, or give some small leeway into the overall circumstances of the "100 Days" battles in Belgium, they all suffer from a similar narrow focus. You will have the Armée du Nord face some combination of Blucher and Wellington and everyone just does the best they can.
But any reading of the 100 Days shows a flurry of activity—key, historical events—which no one has bothered putting into game form.
Until now.
Beyond Waterloo, designed by John Prados, begins with Napoleon entering Paris and the Coalition Allies facing choices about what to do about this.
Sound neat? You can read more about BW on our website where there are still some copies left.
Starting to Mail in Two Weeks

July 12 in Ireland has become a day of pride and anger, lawsuits and fisticuffs. Called "The Twelfth," it commemorates the Battle of the Boyne, 1690, when William of Orange (hence today's Protestant "Orangemen") and his polyglot army ended the Jacobite hopes for James II to regain the throne and allow (at least) more religious freedom for Catholic Ireland.
ATO #40 with Lilliburlero is a design by Philip Jelley that brings us area movement for the broad area of eastern Ireland relevant to the battle, with units representing the various regiments, battalions, squadrons, and batteries that fought in the battle.
 
Each turn represents roughly one hour of time, with weather, mist, and gunsmoke affecting command and control and unit activations.

Scenarios are included for the full battle with historical deployments, the full battle with free-set-up, and for specific parts of the battle (for shorter playtime).

Here's a peek at the map and counters: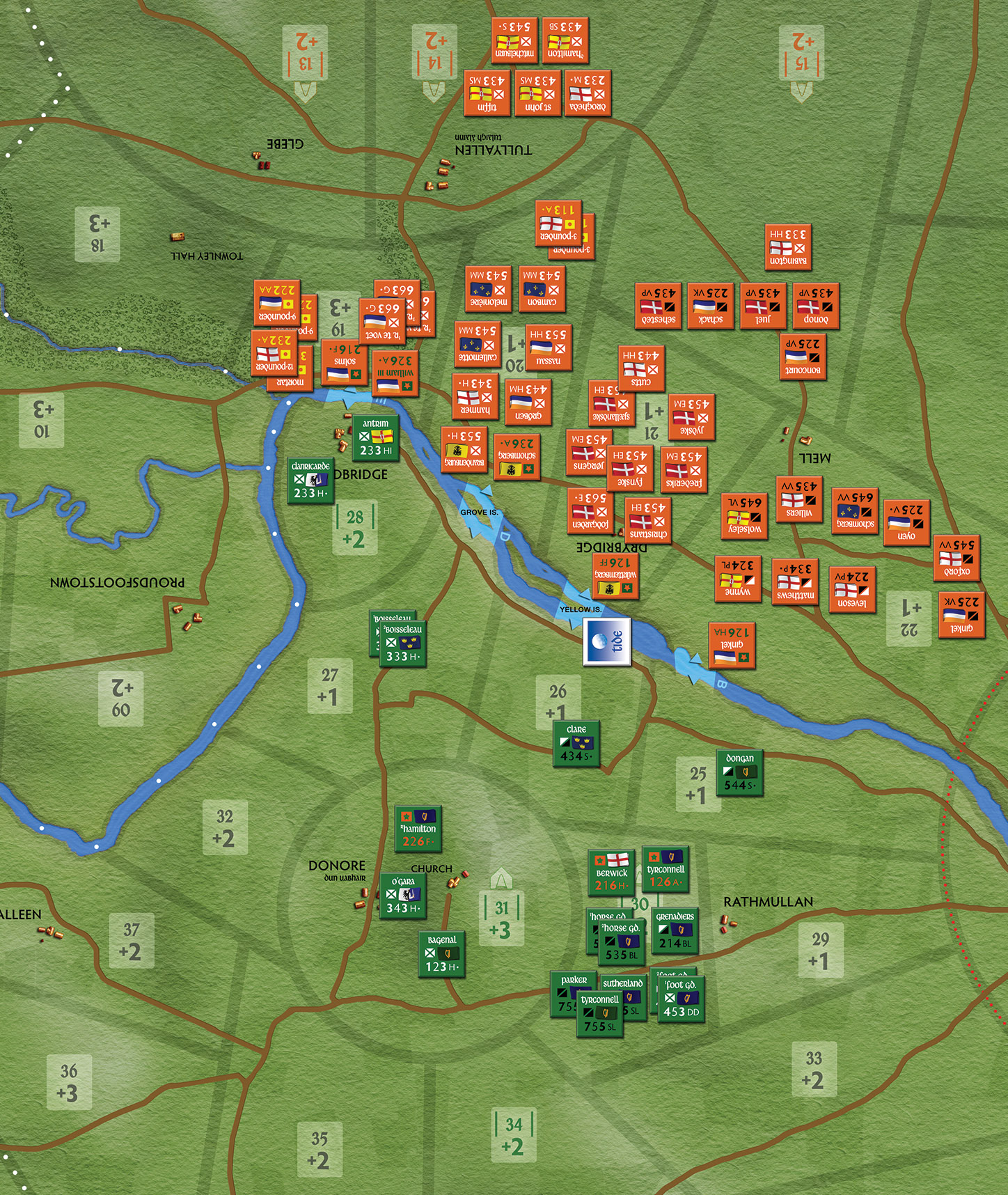 There's still time to subscribe or resubscribe to get this one in the mailing going out.
This Year's Annual
Up next after Lilliburlero will be La Bataille de Vauchamps in the 2013 ATO Annual.
 
Designed by the original Marshal Enterprises team of Monte Matteson, Dennis Spors and James Soto, it comes with a full color, 17" x 44" map board and ~400 full-color, die-cut counters, plus rules, charts and everything you need.
Vauchamps is one of those interesting battles mostly lost in the blur of "the 1814 Campaign," where Napoleon kept giving bloody noses to the advancing allied armies but never quite had the strength for a decisive victory.
Vauchamps serves as a good intro or entry level game to the "La Bataille" system, made popular with Clash of Arms Games and with fans all over the world.
 
We kept the distinctive "La Batt" map and counter art for our edition as you can see below:
Our Annual also includes a deluxe-sized magazine with even more articles and interesting stories. Learn more about this intriguing battle, and other items of military history as well.

You can get Vauchamps at a substantial discount when you order it at the same time you subscribe or re-subscribe. (And subscribers, remember you to not have to wait until your sub ends to re-subscribe.)

Turning Point Simulations
Most gamers are familiar with Mitchell and Creasy's classic of military history, Twenty Decisive Battles of the World. We thought it would be particularly great to be able to game all 20 of those battles. Now you can.
 
We have a sister company, Turning Point Simulations, to create a new sort of gaming experience...classy, rather small, boxed, mounted boards... all games with low complexity but high challenge and play value.
 
All 20 of the book's battles, from Marathon to Stalingrad will be included. Published at the rate of 4 per year. Available individually, or choose the entire series for a remarkable single price.
 
The 4 new releases this year (below) have all been published and are available from TPS.

Last Stand Games (new)
We've also created a new game line, Last Stand Games, to explore a new world of simulations...classy high end games, boxed, with mounted boards and large thick counters... products that challenge the mind with both their research, and replay, value. Sometimes simple, sometimes complex, these limited edition games are crafted for today's wargame enthusiasts.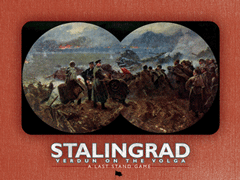 The first release will be: Stalingrad: Verdun on the Volga (S:VoV) by designer Mike Rinella. It's a new regimental-scale game of the two-month struggle for control of the 30-kilometer long industrial town that sat on the West Bank of the Volga River. S:VoV is divided into several two-player scenarios, based on the historical German offensives in September and October.
 
You'll find S:VoV enables you to refight one of the most important battles of World War II in far less time using Mike's favorite area impulse game system.

And About That Special Offer

Imagine the Largest Battle...in the Smallest Space!
Get it for FREE in October!
October 16, 1813, the largest battle of the Napoleonic Wars began around the city of Leipzig, hastily fortified and barricaded, as Napoleon's rebuilt Grande Armée faced four separate allied armies. More than 600,000 men, from all over Europe, clashed for three days of battle—truly the "Battle of Nations."
Now, for the 200th Anniversary, you can play out this immense battle in a very small space—the size of 4 postcards! Each Pocket Battle Game can be played separately or joined together to form this massive battle of history (but still in a small space)!

Here's an image of the northwest card: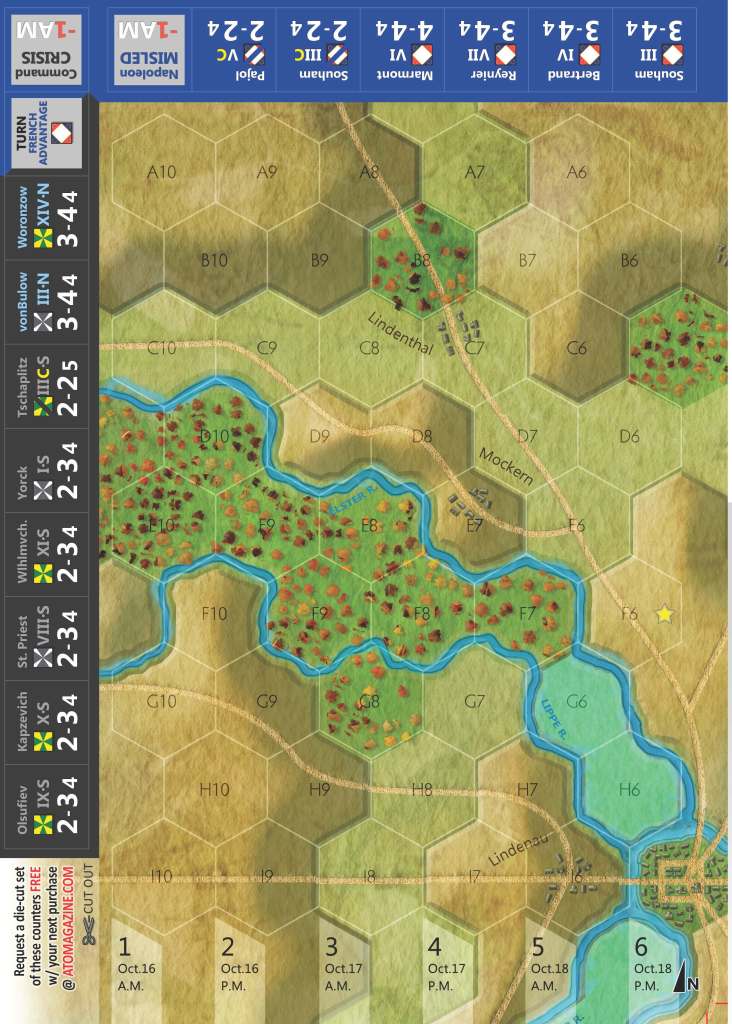 Throughout October, you can get all four new Pocket Battle Games with die cut counters on the Battle of Leipzig free with special purchases. There's no need to enter a Promotion Code, or anything tricky like that, just click on the banner image below to see the details.

(And, you can still pick another free Pocket Battle Game on your way out of checkout too! Maybe more Napoleon with "La Garde Recule!")
Thanks for reading!
Steve Rawling, Publisher, Against the Odds Magazine