Upcoming Issues | Pre-Order | Back Issue List | The Annuals | Campaign Studies | Special Offers | Way of War Packs | Black Swans | Accessories | Spare Parts | Endangered Species | Sold Out | Kickstarters
Against the Odds Holiday Newsgram 2011
Greetings to All,
This newsgram is fairly brief, partly because we had distribution issues with our recent Autumn newsgram - not everyone got it due to a computer hiccup - and for those that did, reading through another massive e-mail could be wearying. And of course it's the holidays and we all want to spend time enjoying those. So there's some quick updates, news of a special offer (more on that later) and then I'll let you go.
Against the Odds issue #34 with Right Fierce & Terrible starts mailing late next week. Most people think of the 100 Years War as a battle over the geography and dynastic questions of who would rule which parts of France. The 100 Years War is known for sieges, sacking, lots of misery, a few large battles like Crecy and Agincourt, and famous leaders like the Black Prince and Joan of Arc. But naval battles?
Yes! Actually, the first significant action of the Hundred (and 15) Years War took place off the coast of Flanders in 1340. And changed everything. The Battle of Sluys was a decisive victory for Edward III that gave the English command of the Channel and insured that the rest of the war would be fought on French soil. Your morale will enjoy the color, 22 x 34 inch map and full ONE INCH counters, and your mind will enjoy the intrigue of designer Jeremy White's unusual game system, in which the "battlefield" of harbor and estuary is "built" as the game progresses, meaning that no two experiences will be quite the same. SEVEN scenarios allow you to explore the questions that have puzzled historians for years, and the two-three hour game play and quick-set-up diagrams mean you can try one approach and swap sides to try another, knowing much will be different this time around.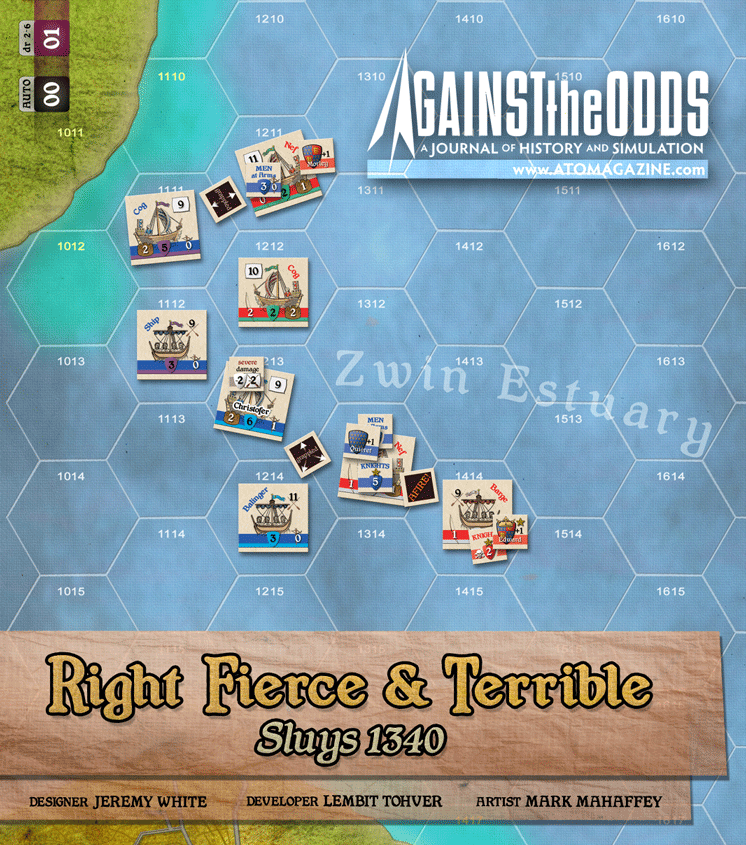 And the other second bonus game included in this issue is Schwarm! by the same designer as RF&T above, Jeremy White (along with co-pilot Mark Aasted). This small solitaire game depicts a common event from WW2, some German fighters trying to pick off a stray B-17. Want this issue? Subscribe or renew at our website quickly so as not to miss the mailing!
After that will be the 2011 Annual with Beyond Waterloo. "Another Waterloo game?" you say? Not exactly. And much more....
 
While most "Waterloo games" either lock players into the circumstances of that famous battle, or give some small leeway into the overall circumstances of the "100 Days" battles in Belgium, they all suffer from a similar narrow focus. You will have the Armée du Nord face some combination of Blucher and Wellington and everyone just does the best they can.
 
But any reading of the 100 Days shows a flurry of activity - key, historical events - which no one has bothered putting into game form. Until now. Designer John Prados tackles one of the grandest events of all time as one man seeks to re-impose his will upon Europe!
If you haven't gotten your copy of Against the Odds #33 with Meatgrinder inside yet in the mail, please write us here at admin@atomagazine.com and let us know so we can check matters out. We take pride in both offering remarkable products and top-flight customer service.
Last, ATO issue #38 will be Guns of the Askari as selected by your votes. Guns of the Askari recreates the imperial struggle for East Africa during WWI.
 
This often overlooked campaign featured classic land battles, naval engagements between lake flotillas, cruiser duels at sea and finally hit and run guerrilla engagements. It opened with conventional force-on-force battles dominated by infantry, machine guns, and trenches. But the low troop densities and wide open spaces enabled a war of movement spearheaded by South African cavalry that broke the stalemate in mid 1916. This left Von Lettow-Vorbeck a choice between surrender or guerrilla war.
 
He chose the latter and dragged his weary pursuers through a series of running battles in Portuguese East Africa. Those of you that voted for this title (congrats on getting it placed) now have your votes returned to you that you can to apply towards other titles on our Pipeline page.
What About That Special Offer You Say?
Well, today, December 16th marks the beginning of the last German major offensive in the West, that history would call "the Battle of the Bulge."       
Against the Odds Magazine remembered this campaign with a cool series of "Pocket Battle" games released throughout the year -- all the size of a post-card, each working as an independent game -- OR tied together.       

Starting now, the ATO website at www.atomagazine.com is set up with a special commemorative offer.       
ATO offers you the complete 4 card set, complete with mounted, color die-cut counters and deluxe combined game rules set, FREE WITH ANY PURCHASE. Select a "Pick 3" special offer on back issues. Start a new subscription. Grab a package of deluxe game boxes. Any new order gets you all 4 of these neat little games, plus the rules for connecting all for (and optional rules too!).       
All you have to do select your purchase(s), then type the promo code "BULGE" in the promotion code field on our order form and hit the "Apply" button. Here's the offer and all the conditions again in a handy graphic:



Act fast -- this special offer only lasts until Dec. 18th (US forces had begun unhinging the offensive by that time). Order now for Christmas delivery (within the U.S. -- we'll do our best elsewhere).
OK, thanks for reading, and best wishes for the coming New Year!
Steve Rawling, Publisher, Against the Odds Magazine