The German Way of War Pack
Three ziplock back issues for a great price!
The German Way of War package ...
What a great way to introduce yourself (or a friend) to ATO games, or catch up on back issues you've been meaning to get. A price like this is almost "buy 2, get one free." Don't miss it!
If the Germans have added just one word to the world's military vocabulary, that word is surely "Angriff!" ("Attack!"). Yet the Germans have also been some of the world's most dogged defenders as well, selling their lives dearly, or giving ground grudgingly - and then only so as to prepare a shattering counterattack.
Welcome to the German Way of War, an exciting mix of doomed resistance and turning the tables on hated foes!
Now, here is your chance to pick up quality, award-winning titles at a bargain price - but that's simply what the "German Code of Honor" demands.
Guns of the Askari
In March, 1919, a man on a black horse led 120 officers through Brandenburg Gate, wearing tattered tropical uniforms, on the only "victory" parade German troops would have after WWI. He was Paul Emil von Lettow-Vorbeck, who kept tens of thousands of Commonwealth troops chasing him around East Africa instead of helping out on the Western Front....
Guns of the Askari and issue #38 of ATO:
Map - One full color 22" x 34" mapsheet
Counters - 280 full color 1/2" die-cut pieces
Rules length - 12 pages
Charts and tables - 2 pages
Complexity - Medium
Solitaire suitability - Average
Playing Time - 6 to 8 hours

Design - John Gorkowski
Development - Lembit Tohver
Graphics - Mark Mahaffey

Circle of Fire
A small town sitting astride an important crossroads, held by a very mixed bag of defenders in the middle of the worst winter in decades. Surrounded, greatly outnumbered, and subjected to almost constant attack. Bastogne? Not quite....
Though now largely forgotten the successful defense of Cholm in 1942 by Kampfgruppe Scherer ranks as one of the great small unit sieges of the Second World War and perhaps of all time. Despite being assailed on all sides by Soviet troops desperate to grab any shelter from the cold, Hitler has declared Cholm a festung: there will be no withdrawal. In the waist-deep snow and sub-zero temperatures the battle will be fought to the last man and the last grenade.
Circle of Fire and issue #41 of ATO
Map - One full color 22" x 34" mapsheet
Counters - 176 full color 5/8" die-cut pieces
Rules length - 8 pages
Charts and tables - 2 pages
Complexity - Low
Solitaire suitability - Low
Playing time - Up to 4 hours
Design - Michael Rinella
Development - Lembit Tohver
Graphics - Mark Mahaffey
Toppling the Reich
Toppling the Reich is an operational level simulation of the fighting for the Rhine River and Westwall that occurred in 1944 and 1945. Designer John Prados transports his Panzerkrieg game system to the Western Front to examine the major episodes of this clash. Using scenarios, which can also be linked together to form a campaign game, he covers the entire war in France and the Low Countries from early September 1944 to the German surrender in May 1945. Players on both sides will be challenged with conducting offensive operations as well as desperate defenses.
Toppling the Reich and the 2006 ATO Annual Magazine
Map - One full color 22" x 34" mapsheet
Counters - 480 full color 1/2" die-cut pieces
Rules length - 17 pages
Charts and tables - 3 pages
Complexity - Medium
Solitaire suitability - Average
Playing time - Up to 2 to 3 hours for the smaller scenarios, 12 to 15 hours for the full campaign game
Design - John Prados
Development - Paul Rohrbaugh
Graphic Design - Craig Grando
Like the topic, designer, or types of challenges in this game?
You may also be interested in this product: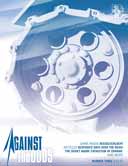 03 - Kesselschlacht, 1944