61 - ROME, IInc.
ROME, IInc. is a game of the Late Roman Empire (the period from Diocletian to Heraclius) for one player, or two co-operating players. A sequel to the popular ROME, Inc. you again will be running the Roman Empire like a business, but this time the barbarians are well and truly at the gates. Together the players operate behind the scenes, promoting and removing emperors, governors, and the occasional pope.
When corporate axeman Diocletian terminated his predecessor in the finest traditions of ROME, Inc., no one expected a complete rebranding operation. Realizing that something new was needed to revive the flagging fortunes of a corporate dinosaur he made his friend Maximinus co-CEO in a new east-west operation, ROME, IInc. Players can accept the challenge solo, or share control of the empire with a partner, one in the East, and the other in the West.
Together or alone, you control the mechanics of a failing empire, choosing five distinct "starting points" (286 CE, 363 CE, 425 CE, 497 CE and 565 CE) and run scenarios lasting 10-50 turns, depending on your corporate acumen and endurance. Each turn represents 5-10 years, with 10 turns in each of the five scenarios. If you already own ROME, Inc. you can extend the game into ROME, IInc. for a truly epic 90 turn game charting the rise and fall of history's greatest empire.
Historical statesmen are not only rated for their abilities as a commander, administrator, and intriguer, but their devotion to the Christian Orthodoxy, and each has a special ability to give him an edge. Every turn sees crises and challenges that the players must deal with, to expand, or sometimes simply to survive.
The map consists of provinces grouped into the four great commands of Gaul, Italy, Illyria, and the Orient, each commanded by a governor. Provinces may be given to foederati barbarian allies to guard the frontier or plagued by heretics. Beyond these is the dreaded Attila the Hun, driving lesser barbarians from their homelands, and pillaging his way from province to province until defeated.
You decide where to allocate resources (capital spending), raise new forces (hiring), undertake prestige projects (public relations), pleasing the church (shareholders), or even setting aside a reserve for a rainy decade or two. You need to blend military acumen with careful administration, as well as intrigue, making the most of what you have each turn, just like any modern-day business. ROME, IInc. will give you a new perception of how war is a cost, business is a benefit, and empire is somewhere in between. It's up to you to find a balance.
ROME, IInc. and issue #61 of ATO
Map - One full color 22" x 34" PtP mapsheet
Counters - 280 full color 1/2" die-cut pieces
Rules length - 12 pages
Charts and tables - 2 pages
Complexity - Medium
Playing time - From 3 to 4 hours per scenario
How challenging is it solitaire? - Excellent
Design - Philip Jelley

Development - Russ Lockwood
Graphic Design - Mark Mahaffey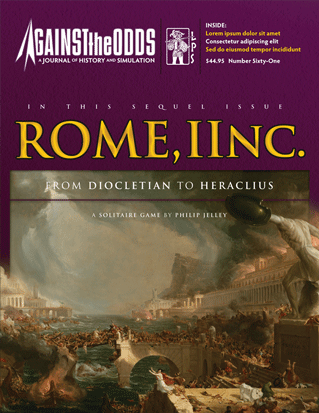 View Larger Image
Read more about this game on Consimworld.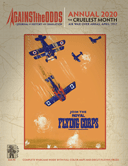 A dreadful offensive on the Western Front in 1917 that would be called the "Battle of Arras" but remembered far better for what the Royal Flying Corps called it-- "Bloody April." Still flying mostly outdated aircraft, General "Boom" Trenchard insisted on constant offensive actions and round-the-clock missions for recon, artillery spotting, mapping, etc. Facing up against the likes of Baron von Richthofen's Jasta 11, the results were woeful losses. To the RFC's credit, they continually fulfilled the missions, despite the losses.

The Cruelest Month looks at this struggle, with the focus primarily on air operations and ground battle abstracted. As the British player, you must marshal your limited numbers of fighters to help secure the skies for your 2-seater observation craft. As the German player, you will employ your well-armed modern fighters against waves of RFC planes that simply keep coming, regardless of how many you shoot down.

And, as always, this Annual features an "extra-size" magazine, with in-depth accounts of the history behind the games, plus other articles. Make yourself the proud owner of this challenging look at the "horrors" men would inflict - and endure - to command the sky.

See more…
Sign up for yours today when you subscribe, or with your next re-subscription.