47 - Arctic Disaster
In the hardest fought Arctic convoy battle of the war, Convoy PQ-17 was largely destroyed by German air and naval forces in July 1942. Arctic Disaster, by designer Mark Stille, examines this pivotal battle and what went wrong (for both sides)!

The 33 merchant ships of the convoy were provided a large escort of anti-submarine ships to ward off U-boat attack, a close covering force of four heavy cruisers and three destroyers, and a distant covering force of battleships HMS Duke of York and USS Washington, carrier HMS Victorious, and another two cruisers and 14 destroyers.

Nevertheless, in spite of this protection, only nine ships reached Russia. The Germans had assembled a large force of U-boats, torpedo-carrying aircraft and a heavy task force including battleship Tirpitz and heavy cruisers Admiral Scheer, Lutzow, and Hipper to crush the convoy.

Arctic Disaster re-creates the voyage of PQ-17 as it transits Arctic waters en route to northern Russia and challenges the Allied player to use his assets wisely to run the convoy through and exact painful losses on the Germans.

The game system is built around the uncertainty of task force activation, replicating the weak command and control evident on both sides. Arctic Disaster features individual counters for every ship and submarine, while the Luftwaffe is represented by 9-12 aircraft groups. Surface to air combat, surface combat, and anti-submarine combat is modeled with a clean system steering the players clear of an elaborate combat resolution process - permitting quick play and multiple game iterations. Detection is also handled in a manner so as not to overwhelm other game functions.

Special rules include convoy scatter and the reluctance of both sides to commit heavy ships in the area of play.

Arctic Disaster and issue #47 of ATO:
Map - One full color 22" x 34" mapsheet.
Counters - 176 full color 5/8" large die-cut pieces
Rules length - 16 pages
Charts and tables - 2 pages
Complexity - Medium
Solitaire suitability - Low
Playing time - 12 to 15 hours
Design - Mark E. Stille
Development - Lembit Tohver
Graphics - Mark Mahaffey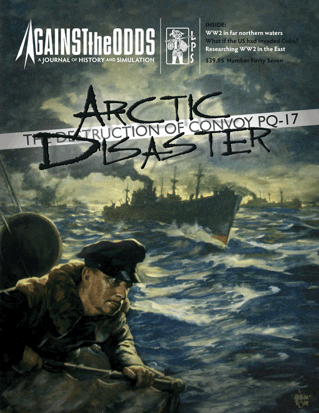 View Larger Image
Read more about this game on Consimworld.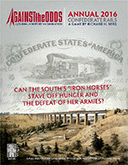 Confederate Rails, designed by Richard H. Berg, is a unique type of railroad game. Players operate the historical railways of the Confederate States of America during one of the "hottest wars" of the 19th Century – the American Civil War - which ends up turning it into a kind of an "anti-railroad" game. Not only do players have to deliver goods, supplies and military loads during a difficult time, but they have to adjust to the painful reality of a dwindling rail network.

Yes, paradoxically each player's rolling stock and rail net are at their absolute finest on the first turn. From there on in the players (representing the South's various railroad companies) battle Union military advances, each other, Confederate government decrees (and neglects), the rapidly inflating and worthless money, plus wear and tear on irreplaceable equipment.

The system also contains far more "outside events" than most rail games...thanks to the war. As the tagline on the cover suggests, it becomes an increasingly against the odds situation to stave off hunger and defeat among the South's armies.

See more…
Sign up for yours today when you subscribe, or with your next re-subscription.